Illustration: Grimms' Fairy Tales by Ale Giorgini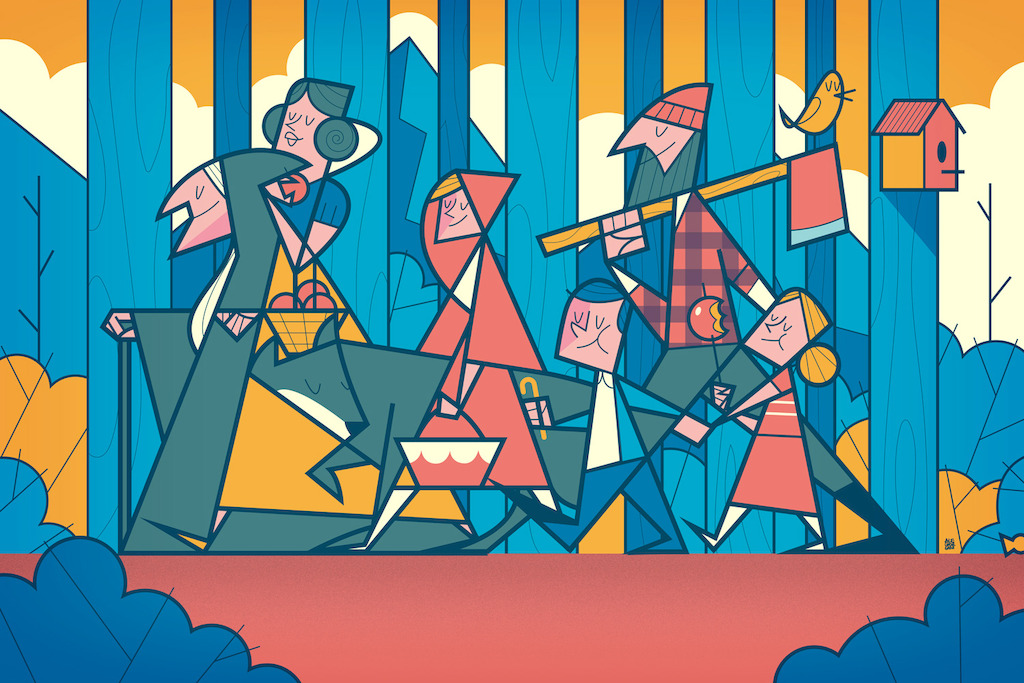 abduzeedo
Feb 22, 2017
Grimms' Fairy Tales Illustrated by Ale Giorgini is a set of illustrations of wallpapers based on classic fairy tales. Whichever one is your favorite, it isn't hard to get glossy eyed and nostalgic over the forever legendary Brothers Grimm tales. With his brilliantly retro flair, Italian illustrator Ale Giorgini evokes the same feeling and transforms the iconic tales of 'Little Red Riding Hood', 'Snow White' and 'Hansel and Gretel' into stylish, contemporary illustration pieces for the home.
"A Wall With A View"
This is the idea that Ale says encapsulates the collection of illustrations. On designing the collection, he said, "I thought of the wall as a huge window, where I could watch the woods through which some of my favorite fairytales characters walk. You can play with Red Riding Hood and a sweet wolf, or try to grab some candy from the hands of Hansel and Gretel." 
Giorgini has teamed up with Murals Wallpaper to create an uber cool collection of wall murals that celebrate the sentimentality and iconicism of Grimms' fairy tales. He uses precise line work, bold color and a cunning use of negative space to produce illustrations that are as stunning as they are interesting, resulting in an incredibly charming Jetson's-esque aesthetic.  
"You can hang your artwork on the trees, or declare your love by writing it on the trunks. My murals are made for children that dream, or adults who still do." – Giorgini
Illustration
For more information check out https://press.muralswallpaper.com/grimms-fairy-tales-illustrated-by-ale-giorgini

Source: Abduzeedo
Illustration: Grimms' Fairy Tales by Ale Giorgini