The Perfect Office – Amplio Bamboo Amplifier, Samsung Curved Monitor and Office Ideas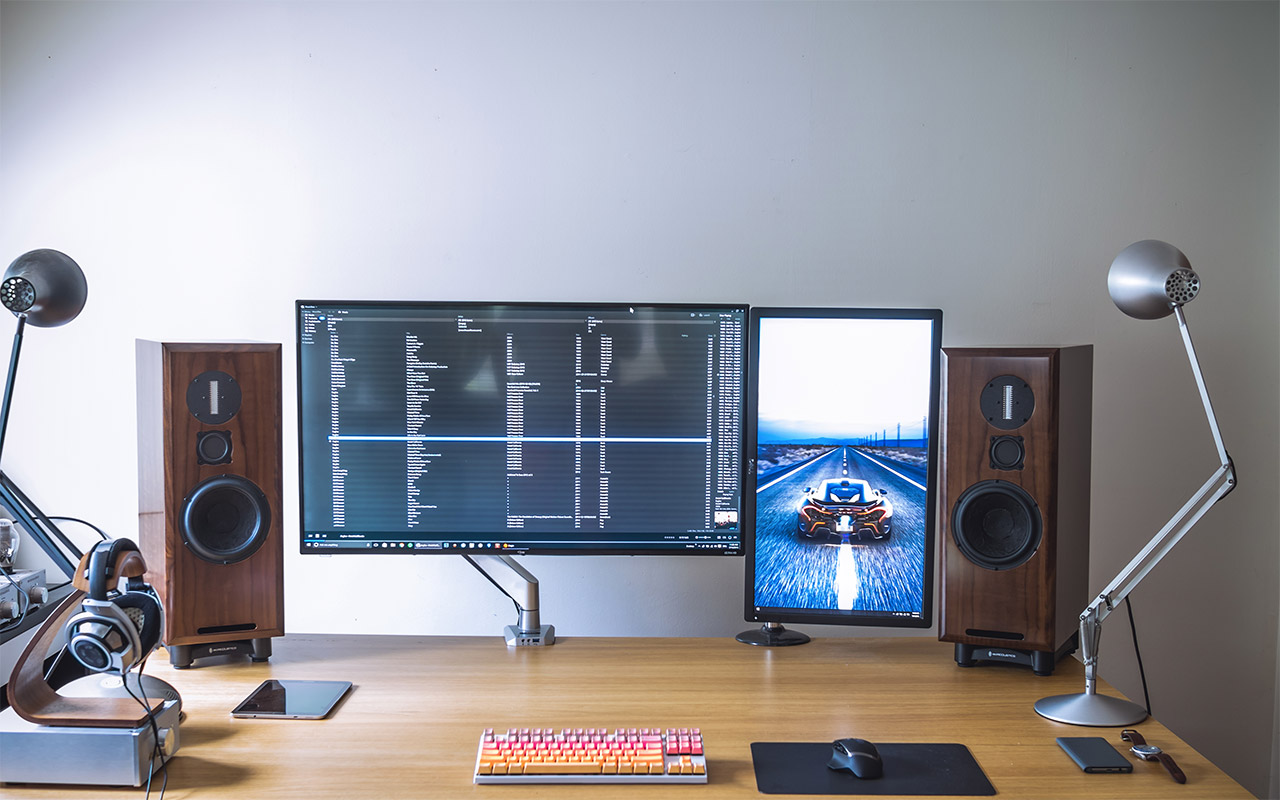 PauloGabriel
Nov 28, 2016
We've seen some great gadgets and equipment for designers. So many cool stuff, that we could actually assemble infinite perfect office spaces! Every week we'll assemble a perfect office, and we'd like you to help us. What equipment would the perfect office have?
This week there are some neat little items for y'all! We've picked the Amplio Bamboo Amplifier for those who want to use their phones for music. Coffee freaks will love the Stagg Pour-Over System! Samsung has got a super awesome monitor, featuring a curved 27″ curved display! But there's more!
Thanks to our sponsor, Gadget Flow. A product discovery platform that helps you save and buy awesome products with 12 new additions every day.
Amplio: Bamboo amplifier
Aplio is a cool amplifier inspired by retro radios. (at Pin The Mall)
Stagg Pour-Over System
Like their simple-yet-brilliant kettle, the Stagg Pour-Over System has a cleverly clean design that makes it easy to brew fantastic coffee at home. It starts with the Dripper, a sleek black cylinder that's vacuum insulated for better heat retention. The Dripper also contains ratio aids to help you know the right amount of coffee to add, ensuring consistent quality, and steep inner slopes that boost extraction. The coffee ends up in the handblown, double-walled borosilicate carafe, where it'll stay hot until it's time to pour it into the included tasting glasses. (at Uncrate)
Samsung Curved 27-Inch FHD Monitor
1800R curvature for an immersive viewing experience;White metallic design with round stand, AMD FreeSync and Game Mode, 5Wx2 stereo speakers for multimedia entertainment. (at 7 Gadgets)
Braven 2200m Portable Speaker
Are you still compromising your audio for portability? It's time to upgrade to the Braven 2200m Portable Speaker as it's expertly crafted to deliver rich sound while remaining compact enough to take everywhere. Coming in a sleek all-white design, the Braven 2200m Speaker features a low-frequency resonator as well as extended range drivers to produce deep bass without any distortion. The result is sound the way it was intended to be heard no matter which genre is your favorite. (at The Gadget Flow)
Wall Mounted Desk
Perfect for small spaces, the LAXseries Wall Mounted Desk attaches to the wall and makes legs seem like pointless obtrusions. Convenient cubbies underneath do away with drawers, allowing for quick stowing and access. (at LAXseries)
Office Ideas!
Here are some office ideas for you! How do you like these? Don't forget that you may suggest gadgets or ideas via twitter: @paulogabriel – I hope you enjoy these! Cheers. 😉

Source: Abduzeedo
The Perfect Office – Amplio Bamboo Amplifier, Samsung Curved Monitor and Office Ideas