Monitor Review: LG UltraWide 38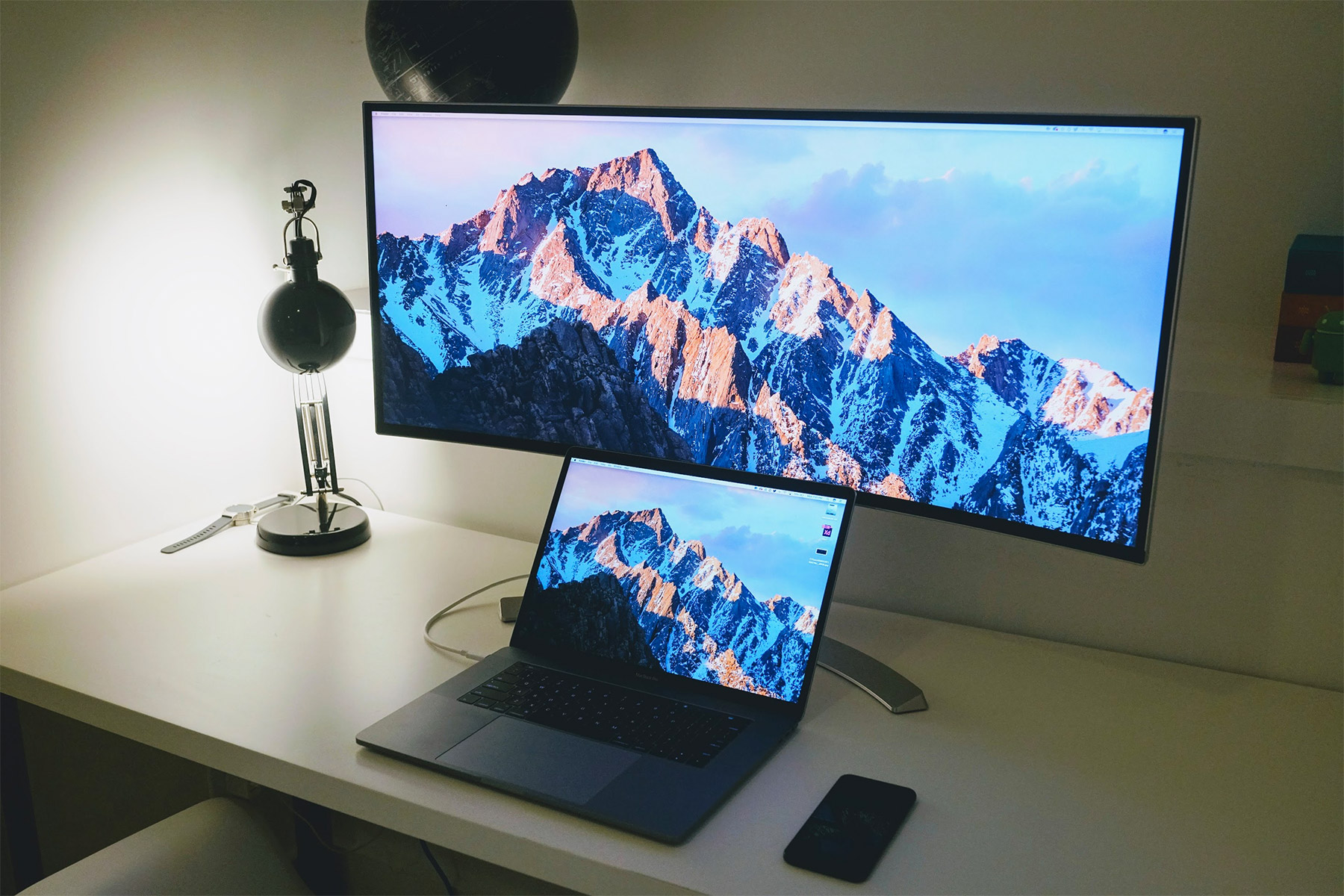 abduzeedo
Jan 05, 2017
To start 2017 I'm pleased to share a pretty stellar product review. I teased a bit about it when I posted a photo on Instagram a few weeks back so here's the full monitor review of the LG UltraWide 38 38UC99.
I have been using my laptop with external monitors for at least the past 10 years. I feel that it allows me to be more productive and keep things more organized. I've dabbled with using my laptop with 2 extra monitors as well and I really appreciate the extra space but I never thought about getting an UltraWide monitor until I got the chance to play with with the new LG UltraWide 38UC99 Curved 21:9 aspect ratio. The only thing I can say for sure is I was wasting my time with other setups.
Before testing the LG UltraWide for this monitor review I was using the Dell 24 4K monitor, which is also great because of the resolution, but after less than an hour with the LG I was really fine trading off the resolution for more space.
Monitor review
Design
When I saw the box I was a bit worried about the size, it looked IMMENSE. After unboxing and placing on my desk it felt much more comfortable than I anticipated. The thin bezel is really nice and in terms of weight it's lighter than the Apple Cinema Display 27.
The curve design feels great, you can see everything without much problem. One of the issues with the curve is that it takes a bit getting accustomed to the distortion on your designs. It bothers me at first but I got used to it pretty quickly. I feel if you need 100% accuracy and precision it might be a problem. As I say for me however it was quite easy to get used to.
Configurations
The monitor has many options in terms of configuration. You can create up to 4 different screens that work like small screens. I haven't tested that yet as I feel only one is sufficient for me.
You can also use it as a bluetooth speaker, which is quite interesting. I have been using that quite a lot. The main reason is due to the fact that I cannot control the volume if I am playing something from my computer. I think the reason might be because my connection is via HDMI.
Speaking of connections, there are quite a lot of ports. There are 2 HDMIs, DVI and USB-C to connect to your  computer. With the new  MacBook pros it is a breeze to use it, you just need one cable for data, video and charging. It is simply amazing. For the old Macbook you will have to use the HDMI cable provided and if you want data you will need to connect via USB.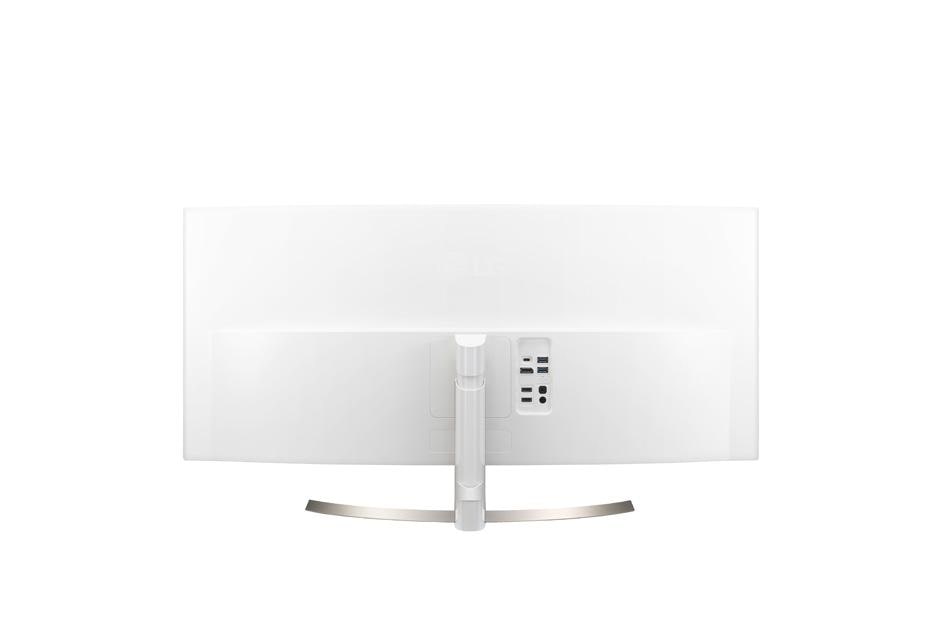 I also connected my Playstation 4 using one of the HDMI ports. The default configuration renders the video in ultra-wide mode, distorting the image. It is easily configurable to render in 1:1 or original view. The image is simply excellent due to the 1ms refresh rate.
Another interesting thing about the monitor is that you can have audio connections via Bluetooth. That is great if you want to connect your phone to use it as an external speaker. The audio quality is good though I'm no expert to say, but it is not mind-blowing.  I also learned that connecting my computer  via Bluetooth let me control the audio via the computer. For some reason I cannot do that via the regular USB-C connection, which is a shame.
There are more options I haven't explored for this monitor review, maybe with more time I will learn new things and I will make sure to share with you here on ABDZ.
Performance and colors
The color profile is quite amazing out of the box. I didn't do any configuration and things looked like they were an extension of my laptop. I believe it renders 100% sRGB.
sRGB is the standard color space of ideal color reproduction. So, with over 99% coverage of the sRGB spectrum, this LG monitor is a great solution for professional photographers, graphic designers or anyone looking for highly accurate color.The resolution also is insane, it's not retina like but the 110dpi  is similar to what you would get with the Apple Cinema Display 27. The density of pixels is an interesting topic and despite the fact that super crisp text is quite pleasant, I felt that my old computer could not handle pushing that many pixels with a 4K monitor. Maybe the new laptops will definitely do it seamlessly, but as for today, I'd say that 1x  resolution for an external monitor isn't too shabby. The space you get of course is hard to describe in words.
Conclusion
I have been using the LG Ultra-Wide 38 for the past month now for this monitor review and I have to say, I went from a skeptical to a believer when it comes to ultra-wide monitors, especially at that size. I first assumed it would be an albatross on my desk as I try to reduce and become more minimal. It turns out the size is not a big issue. In addition to that, the fact I can now have only one cable to connect my computer and the amount of real estate gained is definitely a great surprise. I feel I've become much more productive. To summarize my experience, when I thought the time to go retina resolution for external monitors had finally arrived, I found myself rediscovering the pleasures of more space rather than just more pixel density.
Pros:
Amazing space available, you can get really productive
Design is simple and almost invisible. 
Light for that size. Lighter than the Apple Cinema Display
USB-C video, data and power connection. Minimalist dream come true
Cons:
Not high-definition. I know it would be too much, but it would be amazing to have super crisp texts
Volume control from the laptop doesn't work
Monitor menu control is hard to access if you use the laptop in front of the monitor.
Expensive
More information:
Photos

Source: Abduzeedo
Monitor Review: LG UltraWide 38