DublDom, a Beautiful and Modern Modular House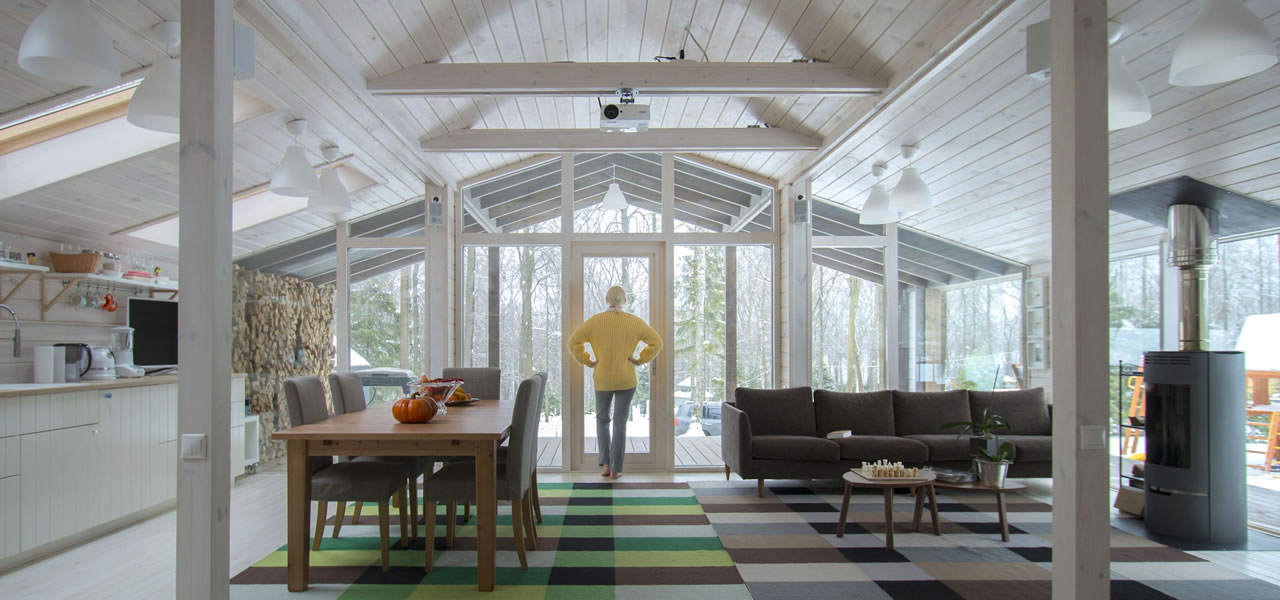 GisMullr
Feb 24, 2017
Modular houses, or prefabricated houses, are picking up momentum lately. We have been seen amazing modular houses designs. From small and minimal projects to bigger ambitious ones, there is certainly a modular house idea to fit your needs. To give you a taste of that we will show a beautiful and modern home in Pirogovo lake, Russia. The project was designed by BIO-architects. The house was designed for a couple that had lived in one of the architect's modular homes. They liked the experience and decided to try an upgraded version of their first modular house. The result is a nice and cozy cabin in the woods.
The house counts with simple and affordable materials. Metal profile, barn board and glass, and it blends harmoniously with the natural environment. It seems like the cabin is totally in sync with its beautiful surroundings. Nice open floor, lots of glass and wood create an modern and charming place. Take a look. And make sure to check out BIO-architects website for further information about this and other inspiring projects. See you next week. 🙂
The house was designed and produced for a young couple who went to live in the suburbs of Moscow on Pirogovo lake. A year before, in 2015, they asked us for a compact 40m2 DublDom house, and after a successful experience of its winter installation, the customers got ready for a bigger one for the whole family, children and staff. None of the standard models was suitable for the site, so we made an individual project on the basis of DublDom of second edition. Most of the individual decisions are based on a simple technology and inexpensive materials, so we managed to follow one of the basic principles of DublDom company – quality of architecture at an affordable pricing.
The front facade with the maximum number of glazing was dictated by location of the house on the site. All the technical and utility rooms are located along the rear facade, and the children's room, office, main entrance and the living room with fireplace look at the site with a wonderful view on the water. Made with simple and affordable materials – metal profile, barn board and glass – it blends harmoniously with the natural environment.
The entire interior is made of solid pine, painted white. The end walls coloured dark visually increase the space. The interior design is completely made and implemented by the hostess Anastasia Sokolova. All modules were prefabricated at Dubldom production in Kazan and arrived at the site together with the interior trim, hidden utilities, furniture and electrical equipment inside. Installation work took about 10 days with minimal disruption to the site and the environment.
We found this house at ArchDaily.
Photos by Max Badulin and Ivan Ovchinnikov.

Source: Abduzeedo
DublDom, a Beautiful and Modern Modular House